Rockstead is the old capital of Estdalmania. Founded in 2AC Rockstead served as the capital of Estdalmania until in 452 AC when Devenport replaced it after pressure to change to a coastal capital.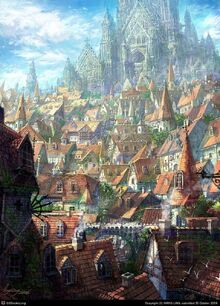 Rockstead now serves as a secondary capital in a sense as it holds a lot of early Estdalmanian culture and the Grand Treasury. Built upon the mountain also named Rockstead it features a four tiered system. On the lower tier lives most of the common people, streets filled with farmers, blacksmiths, and merchants alike. The second tier is made up of the merchant districts where most business apart from taverns and inns exist. The third tier is where the wealthy and minor lords and ladies live. The third tier is also the location of the Grand Treasury. The final tier is military buildings and the old keep which belonged to the founders of Estdalmania, nowadays the Iliadin family maintains rule over Rockstead.
Rockstead also houses one of the last places of worship for the Church of the Nine. Rockstead is one of the more conservative cities in Estdalmania. Rockstead in majority still follows much of the Nine's decrees.